Natural marble walls are a trend. And although there are imitations of porcelain for these large-format coverings, nothing can compare to the beauty and quality of the natural stone.
In the past, installing natural marble walls was of significant difficulty due to the weight. The slabs were 2 cm thick, so architects and interior designers could not count on large sizes.
The lightweight Stonesize natural stone panels are a specific solution for creating designs with natural marble walls in interiors without giving up the large format.
Large size panels
Most of the Stonesize products can be up to 2900 X 1450 mm. They are combined with minimum thicknesses and weights, as we will describe later.
Continuation of the vein
The continuation of the vein is essential when it comes to cover a large space with marble and make it shine in all its splendor.
The book match system allows the installation of natural marble walls in unique designs where the aesthetic value is a crucial factor. These "jewel walls" have the minimum number of joints, which in turn allows for a millimetric fit of the vein pattern.
Above, we see a dividing wall made with marble that works like a sliding door. Without a good relationship based on low weight, low thickness, and high resistance, it would not be possible to realize this design. 
Minimum thickness
In the past, it was necessary to work with thicknesses of at least 2 centimeters. However, at present we are able to calibrate the minimum thicknesses from 5 mm. to 20 mm, depending on the requirements of each application and design.
Low weight
Even with the maximum size, Stonesize weighs almost three times less than dimensional stone. It facilitates installation by combining low weight with a high level of strength thanks to its sandwich panel system.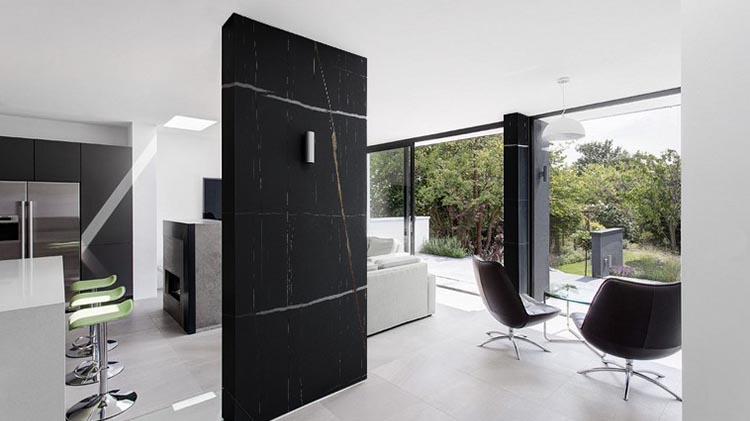 This dividing wall design features a Black Mirage marble cladding.
High strength
As we were saying, it's not because they're light that they're less resistant. Stonesize panels are much stronger than conventional ones.
Each panel uses materials such as honeycomb, fiberglass, or aluminum, all of which are light but highly resistant.
If you want to know more about natural marble walls for large format, visit our products page or contact us >